You are here:

Wally

Strenght of colour
Strenght of colour
Can colours affect our mental and physical well-being? Of course, yes! The importance of colouring plays a particularly important role in the rooms where we spend a significant part of our time. Since colours can affect our mood so much, it is important to select them according to our needs and tastes.
Colours are an important element defining the character of things and play an increasingly important role in the aesthetics of contemporary objects. When using colours and colours in a room, we should first of all take into account its purpose, size and lighting. We will modify the interior with colour: we can widen, lift or lower it. We should also remember that not only walls, but also furniture, accessories, upholstery and even window frames constitute the colour of the interior, therefore all these elements should constitute a coherent whole.
Colour and its properties
When deciding on the colour that should dominate our environment, special attention should be paid to the reactions and associations that individual colours evoke in us.
Warm colours have high energy and the longest visible colour wavelengths, quite the other way round with cold shades. A woman in red will attract the attention of a man, because exactly this color is the most intense and longest in the range of visible colors, and also has the greatest impact on the retina. Green shades calm, calm and reduce eyestrain, hence their frequent use, e.g. in outpatient clinics, clinics or hospitals, where a soothing effect on patients is most desirable.
Colors have their own properties, and getting to know them makes it possible to consciously manipulate them in such a way that their influence is as effective as possible when planning the development of our spaces. Thanks to them we can correct the proportions of the room, e.g. we can shorten the interior too long by painting a shorter wall with a darker colour, we can lower it too high by transferring vivid, darker colours to the ceiling. Cold colours such as blue, violet, grey will give the impression of spaciousness, while warm colours: orange, yellow, red bring the walls closer to each other - reduce the interior. If we decide on strong colours, let's keep order, mess in such a room is not advisable, otherwise staying in it will become tiring for us. In such a situation it is worth betting on strong accessories, in energizing colours.
Light of colour
Light is a factor influencing the perception of colour. Bright colours reflect light, thus adding size, spaciousness and clarity to the interior. For the impression of intimacy it is best to use dark colors, but remember that they absorb more light, so they look best in bright, sunny rooms, where natural light brings out their character. The location of the interior in relation to the sun is important for the selection of its colour scheme. Those to the east and south should have more intense colours, so that they do not seem bleached in relation to the north-western parts of the apartment. On the other hand, for rooms facing north, because the light is less intense, we should choose bright colours that will illuminate them.
Colour combinations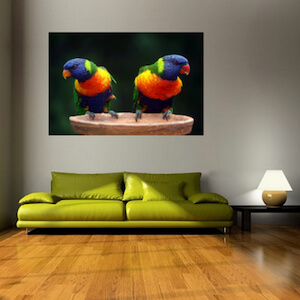 Nature is a great source of colour inspiration. The balance of colour combinations that exist in nature will also work well in the comfort of the home. Harmonious combinations are those that are adjacent to each other in a colour wheel, while maintaining the same key. On the other hand, bold, intentional contrasts of colours placed on opposite sides of the colour wheel - skillfully selected can also make up a coherent whole of the designed interior. If courageous experiments are not our strength, we can always escape into monochromatic combinations of compositions of different tones of the same colour and then even intense colours will give us a sense of peace.
RED in combination with white, grey or graphite gives you a sense of dynamism. It's a colour that exceptionally stimulates and adds energy. It has the ability to optically reduce rooms. On the other hand, it strengthens appetite, so we often meet it in restaurants, it will also work well as a dominant color in the home dining room.
BLUE ideal for sunny rooms, enlarges the interior and looks good in combination with gray and classic white. It's a colour that calms down, it also helps to increase concentration and creativity. It has an extraordinary property of reducing blood pressure, so it allows you to fall asleep more easily.
GREEN is the colour of nature, so it perfectly influences the harmony of the human body. It is a color that relaxes, relaxes and calms down. Ideal for the office, library, bathroom. Favours concentration and balance.
ORANGE AND YELLOW solar duo that brings to mind summer. Orange with blue will add a Mediterranean climate to our interior. Orange gently stimulates and increases optimism, while yellow is the color of science and intellect. Both are associated with summer, so they evoke optimism, joy and good memories.
VIOLET combined with yellow will work perfectly, with red will create an original composition. It is an exclusive color, combines red and blue, stimulates and positively influences the nervous system. This colour stimulates the imagination and is often the favourite choice of artists.
GREY blend well with bronze, harmonize favourably with aluminium and steel. They are an ideal background for objects with intense colours, associated with the minimalist style of contemporary architecture. They will work well in the bathroom, where they combine favourably with chrome fittings.
BLACK is an excellent composition with grey. With white it obtains original graphic effects in the form of zebra or cow patches.
Selection of colours for the interior is an important issue, so it is worth adjusting them to the function of the room and one's own personality. Our interiors should give us joy, a sense of security and be a place where we feel the best. Therefore, it is worth spending some time on their perfect fit.