Ceramic board versus lacquered board
Boards are an integral part of our lives. They accompany us from the first school years, we enter adulthood with them during our studies, and often we also work on them in our professional life, in offices or offices. Although it might seem that all the boards are made exactly the same and with similar materials - don't let it lose you the wrong impression!

There are many types of boards available on the market, such as melamine, glass, chalk, dry-erase or self-adhesive stickers - we will focus on two types of the most popular boards today, namely lacquered and ceramic. These are the most popular solutions you will find both in schools, offices and conference rooms. Check what is different and which of them will work best for your current needs.
Ceramic or lacquered board?
Choosing the right board may or may not be difficult at all! Read our short description of the most popular chalkboards on the market and decide which one works for you!
Lacquered board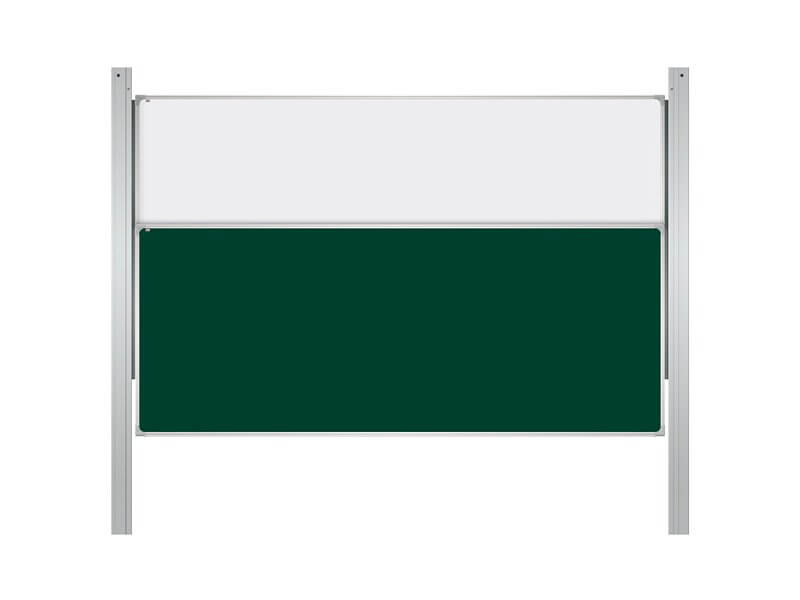 A painted board is a good golden mean between the cheapest melamine board and the most durable ceramic board. Its big advantage is its attractive price and easy availability in various shapes, colours and sizes. Lacquered surface is the most frequently chosen version of the board by customers. Its important advantages are magnetic properties and durability. It is perfect for places where there is less risk of mechanical damage to the surface, for example in offices or offices.
Certainly the advantage will turn out to be their lower cost, which significantly attracts interest, especially when it comes to private individuals, who do not care about extreme strength and resistance to all external factors, because the whiteboard will be, for example, intended for use by children or arranged in the home office. On the market you will find both magnetic models as well as ordinary dry-erase boards, for which you will also need to buy appropriate pens.
Ceramic board
The ceramic board is otherwise known as porcelain. The steel sheet is covered with specially hardened ceramics. The ceramic surface is the most durable version, resistant not only to mechanical damage, scratches, but also discoloration. It is suitable for school and academic rooms, due to its high resistance. The ceramic board is also magnetic! This type of board does not reflect the sun's reflections, so we can be sure that it will not harm our eyes and there will be no discoloured streaks from the sun on its surface.
The dry-erase ceramic board has many advantages. First of all, it is a product for people who value savings and durable products of the highest quality. Thanks to the almost indestructible surface of the ceramic board, there are no scratches or discolourations on it, which significantly increases the time of its use and allows you to forget about the need to buy another one. It is a great convenience and savings!
Ceramic boards are distinguished by exceptional durability due to the use of scratch and dirt resistant, as well as sunlight resistant hard and at the same time pristine smooth porcelain surface.
What are the differences in the boards?
For the production of lacquered boards, a certified sheet is used, which is painted in the technological process and then lacquered with products that give it its characteristic gloss. The lacquer applied on the surface of the sheet is also supposed to protect it from scratches and enable writing with dry-erase markers.
In the case of ceramic boards, a powder is additionally applied on the surface of the sheet - the whole is heated at 1200 degrees Celsius. High temperature creates a special coating with a high degree of resistance to abrasion and scratches. Moreover, the coating gives the plate a specific matt shade.
The main difference between a painted dry wear plate and a ceramic one is its durability.

How to choose the right board?
When choosing the right board, you should ask yourself some important questions which will definitely make the whole purchasing process easier.
What budget can you allocate to the board?
The prices of boards depend on their size and characteristics. They can vary from several dozen to even several thousand zlotys. So it is worth to decide on what budget we can afford to narrow down our search. Lacquered boards will be a cheaper choice, more expensive ceramic ones.
How and how often will you use the board?
If you are going to use the board only for personal, more occasional notes, a lacquered board or even a board in the form of a self-adhesive dry-erase foil will definitely be enough. If, on the other hand, the whiteboard is used every day, we often change the content presented on it and, thus, we often rub it down, it is worth spending a little more and buying a ceramic board. The surface is much more durable than varnished, additionally it can also serve as a projection screen due to its matt finish. Such a solution is dedicated mainly to schools and universities, as well as training companies.
Is the board also supposed to have an aesthetic aspect?
For many of us it is very important that the interior design is consistent and aesthetic. Of course, you can choose a traditional green board - but this is not a necessity! On the market you will find boards in different sizes, but also shapes and colours. So you can easily arrange them in your interiors, without compromising their visual aspect!
Of course, both lacquered and ceramic boards are available on the market in two variants to choose from: chalkboard and dry-erase board. Thanks to that you can easily compose a perfect set of boards adjusted to your needs.
Posts from the same category