What to choose instead of a corkboard for a room? Many interesting alternatives!
Have you ever wondered how to enhance the decor of your room while increasing its functionality? If so, you have probably come across the classic solution of a corkboard. However, there are many other practical and interesting alternatives worth considering. In our article, we present various proposals that will surely inspire you to make changes in your interior. From modern magnetic and glass boards to creative writing wallpapers and eco-friendly boards made from recycling and natural materials – everyone will find something suitable. Enjoy reading and discovering the fascinating possibilities that these unconventional solutions offer!
What Instead of a Corkboard? We Recommend Magnetic and Glass Boards!
If you are looking for modern and elegant alternatives to the traditional corkboard, consider magnetic dry-erase boards and glass boards. These innovative solutions not only look great but are also extremely functional. Magnetic boards allow you to attach notes, photos, or drawings using magnets, making them easy to organize. On the other hand, glass boards, with their smooth surface, allow you to write with markers, enabling dynamic and creative presentations. Tip: to further enhance the use of these modern boards, consider getting special accessories such as magnets, markers, or erasers.
A dry-erase board with a weekly plan print will allow you to fully schedule your work and academic activities.
What to Hang Above the Desk for Aesthetic and Practical Purposes? Writing Wallpapers and Their Advantages
Writing wallpapers are an excellent choice if you are considering alternatives to corkboards for hanging above your desk. With them, the wall in your room can become a place to leave notes, drawings, or to-do lists. Such wallpapers are made from materials that allow for easy erasing, making them reusable. The advantage of this solution is space-saving, as you no longer need to mount an additional board on the wall, and the wallpaper design can be matched to the interior decor.
Among the drawbacks of this solution, one can mention the need for wall cleanliness maintenance since markers can leave marks that are more difficult to remove over time. Moreover, writing wallpapers may be slightly more expensive than traditional corkboards. Nevertheless, their aesthetics and functionality make them worth considering for your room.
There are different types of writing wallpapers available on the market, such as magnetic, erasable, or self-adhesive wallpapers. Each type has its unique properties that may be more or less attractive depending on individual needs. Therefore, it is worth considering which type of wallpaper will best meet your expectations before making a purchase decision.
Are Shelves and Bookcases a Good Alternative to Corkboards?
Instead of a corkboard above the desk, you can hang various types of shelves and racks. However, it's worth paying attention to several important aspects when making purchases. First and foremost, they should be functional and spacious enough to accommodate all the small items we want to store on them. It's also worth investing in furniture with an interesting design that will serve as interior decoration. Attention should also be paid to the material they are made of to ensure durability and ease of maintenance.
Among the shelves and racks available on the market, there are several types that are worth considering.
Modular shelves - allow for flexible configuration of space, making it possible to customize them according to individual needs and preferences.
Hanging shelves - save floor space while being visually striking and practical.
Shelves with compartments - ideal for storing smaller items such as books, boxes, or decorations.
When choosing shelves and racks for your room, it's also worth considering additional features that can make everyday life easier. For example, LED lighting can be used to highlight favorite items while adding coziness to the interior. Another interesting solution is shelves with built-in drawers or doors, allowing for more discreet and organized storage.
The dry-erase magnetic board with a branch motif looks exceptionally aesthetic, making it a decorative element for a children's room while also facilitating organization and learning.
What eco-friendly options can be hung above the desk? Boards made of recycled and natural materials
More and more people are paying attention to eco-friendly solutions in interior design. Therefore, when looking for alternative options to hang above the desk instead of a corkboard, it's worth considering models made of recycled and natural materials. Such boards are not only environmentally friendly but can also serve as an interesting decorative element in a room. The use of recycled materials and natural resources such as wood or bamboo makes these boards more sustainable and less impactful on the environment.
An example of such a board is a recycled paper board, which is not only lightweight but also easy to install. The use of natural materials makes these boards more durable and resistant to damage. Boards made of natural materials can also be crafted from wood, stone, or glass, allowing for the creation of unique and functional interior elements. Eco-friendly boards are an excellent choice for individuals who care about the environment and want to incorporate sustainable design elements into their rooms.
Frames for photos and posters - one of the most common decorations above the desk
An alternative to a traditional corkboard can be frames for photos and posters, which combine both decorative and practical functions. They provide a simple way to organize your favorite photos, graphics, or posters while also decorating the walls in the room. It's worth paying attention to the variety of available models, which allow for customization according to individual needs and taste. Personalized custom posters are also an excellent choice, as they can depict anything you want – with such decoration, studying and working at the desk will become a pleasure.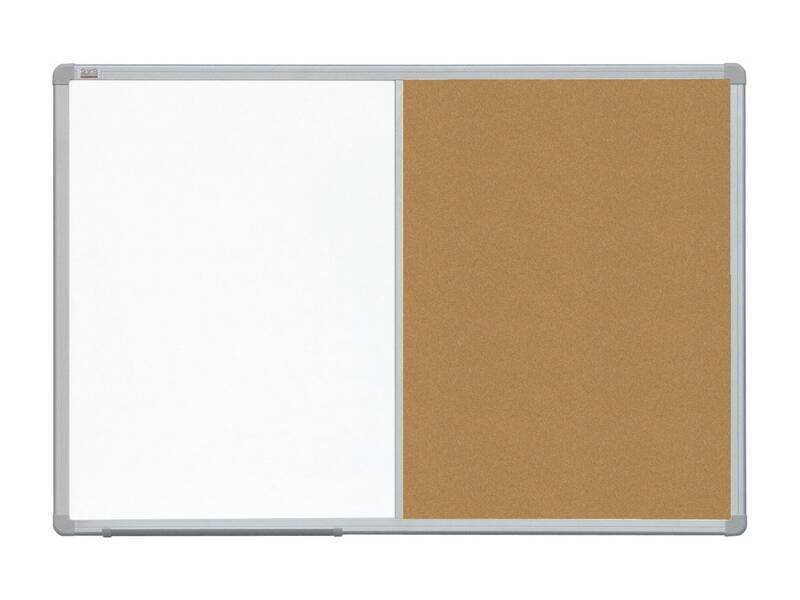 Dry-erase magnetic-cork board Office is a 2-in-1 solution, so regardless of employees' preferences, everyone will be able to use it conveniently.
Space for artists: chalkboard paint and painting walls
Creating a space for artists at home is an excellent way to foster creativity and self-expression. For this purpose, it's worth considering the use of chalkboard paint and painting walls. Chalkboard paint allows for easy and quick transformation of any surface into a chalkboard where you can write with chalk or special markers. Painting walls, on the other hand, is an option for those who want to create their own works of art directly on the wall using acrylic or poster paints.
When comparing these two options, it's worth noting a few aspects. Chalkboard paint is usually easier to apply, and its surface is more resistant to wear and stains. Additionally, it can be easily wiped off, allowing you to start afresh. In the case of painting walls, special paints and surface protection may be necessary – either way, if you're wondering what to choose instead of a corkboard for your room, the above options are also a good choice.
What to hang above the desk? Frequently Asked Questions
In addition to discussing in detail the issue of decorations above the desk and alternative solutions to use instead of a corkboard, we have also gathered some frequently asked questions on this topic along with their answers!
Are magnetic and glass boards safe for children?
Magnetic and glass boards are safe for children provided they are properly mounted on the wall. It's also recommended to choose boards with rounded edges and use magnets and markers designed for children.
What are the advantages of writable wallpapers compared to traditional corkboards?
Wallpapers with the ability to write allow for greater creativity and freedom in organizing space. You can write on them with markers and easily erase the writings. This allows for frequent changes of content on the wall, which is more difficult with cork boards that require pinning notes.
Poster illustrating a Rubik's Cube on a white background will enliven the room and bring it to life, thanks to the intensity of colors.
Are shelves and racks for trinkets functional enough to replace a cork board?
By replacing a cork board with shelves, do we achieve the same level of functionality in the room? Their advantages are slightly different, making it difficult to determine which one provides more practical benefits. Shelves and racks for trinkets can be very functional and help in organizing space. They allow for storage of various items such as books, boxes, flower pots, or decorations. Depending on needs, they can be freely configured and customized to fit one's lifestyle.
What materials are used to produce eco-friendly boards made from recycling and natural materials, which are used instead of cork boards?
Eco boards can be made from various materials such as recycled wood, bamboo, paper, or even cork. It is important that these materials come from responsible and environmentally friendly sources, and are also durable and easy to maintain.
We hope that by this point, you already know what to hang above your desk and what alternative solutions to cork boards you have at your disposal. Would you like to explore knowledge on other similar topics as well? Visit the blog of the Wallyboards wall decorations store!
Posts from the same category