Magnetic board for the kitchen as a practical interior decoration - why should you opt for it?
Magnetic boards for kitchens are becoming increasingly popular interior design elements that combine functionality and aesthetics. In this article, we will take a closer look at this practical solution, which can not only help organize daily life but also serve as an interesting decoration for the kitchen interior. You will learn about the different types of magnetic boards available on the market, how to choose the perfect board for your space, and their practical applications in the kitchen. We will also discuss how a magnetic board can become a decorative element, present ideas for arrangements using magnetic boards, and compare them to other space organization solutions. We invite you to read our article, which will help you decide if a magnetic board for the kitchen is the right solution for you and how to harness its potential in your home.
What Can a Magnetic Board for the Kitchen Be? Available Types
Choosing the right magnetic board for the kitchen is crucial for the functionality and aesthetics of the space. On the market, you will find many types of boards that differ in material, size, color, and additional features. Comparing the available options allows you to choose the best solution for your kitchen. For example, magnetic dry erase boards with a metal construction are not only durable but also easy to clean, which is important in the kitchen. On the other hand, glass boards are characterized by an elegant appearance and resistance to stains. It is also worth noting boards with a calendar or planner function, which facilitate the organization of daily tasks.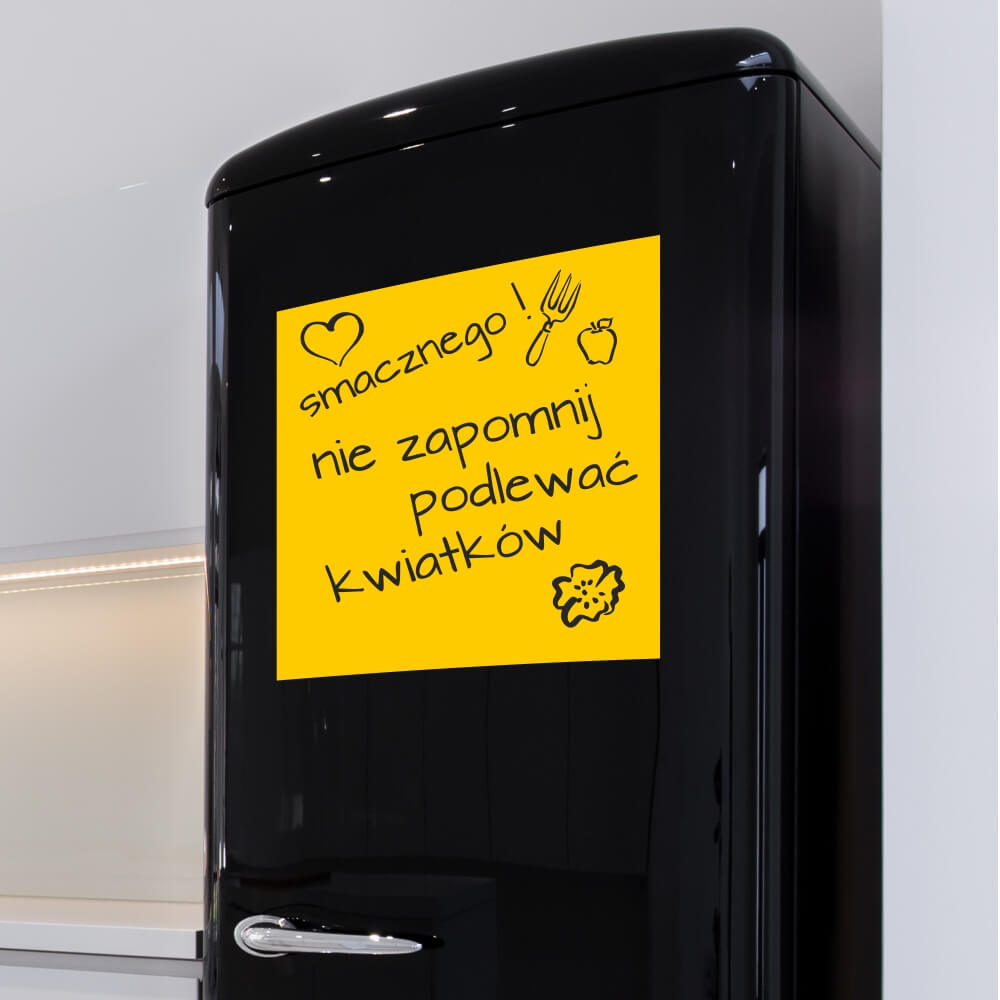 Dry erase magnet for the refrigerator allows you to note important information in a visible place without wasting paper!
Magnetic Boards for Kitchens – How to Choose the Perfect One?
Considering the style and color scheme of the interior where the magnetic board will be placed is crucial for choosing the right model. The board should harmoniously blend into the room's arrangement, so it is worth paying attention to its shape, color, and material. The most common types include:
glass boards;
metal magnetic boards;
The size of the board also matters - it should be adapted to the space available in the kitchen. A board that is too large can overwhelm the interior, while one that is too small may not fulfill its function. Before making a purchase, it is advisable to measure the space where you plan to place the board to avoid installation issues later on.
It is also worth considering the functionality of the magnetic board for the kitchen. Some models are equipped with additional elements such as spice shelves, towel holders, or key hooks. By choosing a board with such additions, you not only gain a practical decoration but also a functional solution.
Practical Applications of Magnetic Boards in the Kitchen
Magnetic board for the kitchen is not only an original decoration, but above all a practical tool that facilitates everyday functioning. With it, you can easily organize space, plan meals, or create shopping lists. All you need to do is get magnets and markers for the board to enjoy their versatility.
Using magnetic boards in the kitchen allows for space saving and maintaining order. You can store recipes, notes, or children's drawings on them. Additionally, they are easy to clean, which is important in areas where meals are prepared. It is worth investing in such a decoration that also serves practical functions.
Magnetic whiteboard with spice motif will easily blend into the kitchen design - you can have your favorite recipe at hand.
Magnetic board - kitchen in a stylish edition. Ideas for arrangements
Using a magnetic board for the kitchen as a decorative element can bring many benefits. Besides practical use, this product can be an interesting visual accent that introduces a bit of modernity and originality into the interior. There are many ways to arrange a magnetic board that will allow you to create a cohesive and aesthetic composition with the rest of the kitchen equipment. For example, you can choose a rectangular board that will perfectly match the geometric shapes of furniture and accessories.
Comparing different wall boards for the kitchen can help you choose the right model that meets both practical and aesthetic requirements. Pay attention to parameters such as size, shape, color, and the material from which the board is made. For example, boards made of metal will be more durable and resistant to damage, while those made of plastic may be lighter and easier to install.
Magnetic board for the kitchen and other available solutions - a comparison
Magnetic boards for the kitchen are a practical and aesthetic solution that allows you to maintain order and organization in the kitchen space. Compared to other options such as cork boards or traditional shelves, magnetic boards offer many advantages. First and foremost, they are easy to install and do not take up much space, which is particularly important in small kitchens. Additionally, they are moisture-resistant and easy to clean, making them ideal for use in the kitchen.
It is worth paying attention to several other aspects that distinguish magnetic boards from other solutions for organizing space.
Versatility—magnetic boards can be used as a place for notes, recipes, shopping lists, or photos, as well as interior decoration;
Aesthetics—they are available in different colors, patterns, and styles, allowing them to be matched to the kitchen decor;
Functionality—magnets, hooks, or shelves can be placed on them, allowing for the storage of various items;
Durability—made of damage-resistant materials such as stainless steel or tempered glass.
Therefore, magnetic boards for the kitchen are an excellent choice for people who value practicality, aesthetics, and functionality in one solution.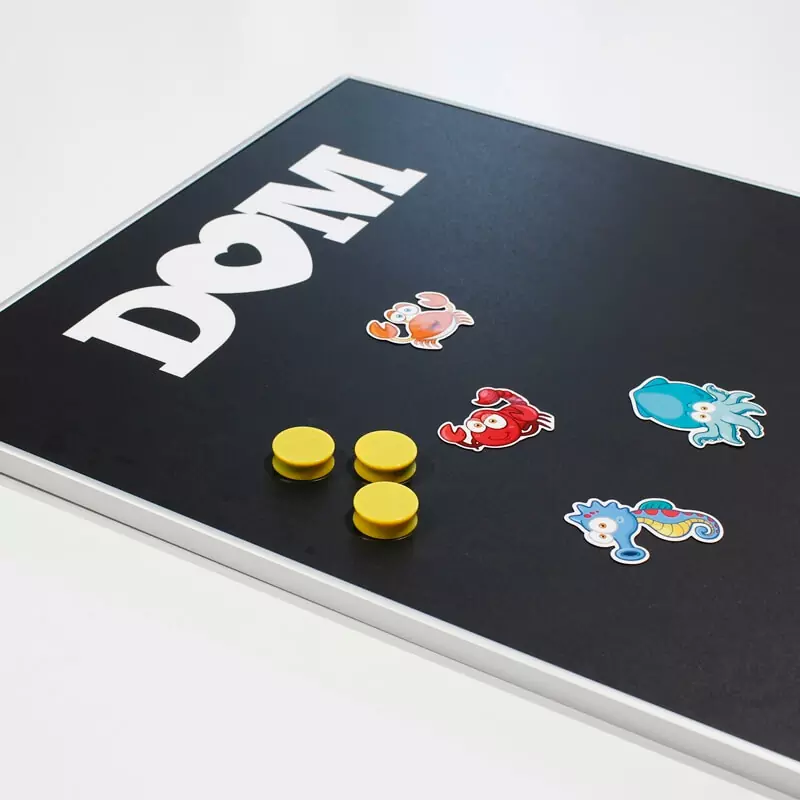 Magnetic chalkboard in an aluminum frame with print not only allows you to note important information in a visible place but also adds variety to your child's play and learning time.
How to install and maintain magnetic boards on the kitchen wall?
Installing magnetic boards in the kitchen is not complicated, but it is worth paying attention to several important issues. Choose a suitable location – preferably one that is easily accessible but at the same time not exposed to damage during daily use. Before installation, make sure that the wall is clean and dry. Boards can be mounted in various ways, such as using special brackets. Choose the method that is most appropriate for your wall and board.
Also, take care of the proper maintenance of the magnetic board to preserve its aesthetics and functionality for a long time. How to clean dry-erase boards? Regularly clean the board surface with a dry cloth or special board cleaning fluid. Avoid using chemical agents that may damage the surface. If there are stubborn stains on the board, try using an eraser.
Fun and learning under parental supervision, or magnetic board for the kitchen for the youngest
Integrating magnetic boards into the kitchen space can bring many benefits, especially for children. They enable not only play but also learning in a pleasant atmosphere. Children can use magnetic boards for drawing, writing, and even performing simple mathematical tasks. Why is it worth investing in a magnetic board for the kitchen for children?
Stimulation of creativity—children can freely express their ideas and emotions through drawing, painting, or creating their own compositions with magnets.
Development of motor skills—using a magnetic board helps children practice hand-eye coordination and precision of hand movements.
Learning through play—magnetic boards can serve as a tool for learning letters, numbers, shapes, or colors in an engaging and enjoyable way for children.
Easy maintenance of order—magnetic boards are easy to clean, and magnets can be stored in one place, making it easier to maintain order in the kitchen.
Introducing a magnetic board to the kitchen can be a great way to spend time with children. Parents can encourage children to learn and play while engaging in these activities together. As a result, the kitchen becomes a place not only for meal preparation but also for learning, play, and building family bonds.
Would you like to purchase a magnetic board for your kitchen at home? Or perhaps you are interested in chalkboards? A range of proven solutions awaits you at the Wallyboards online store.
Posts from the same category