How to arrange a room for siblings?
Arranging a children's room has never been an easy task. But what if we have to furnish a room for two siblings? The right color scheme for a girl, a boy's love for automobiles or aviation—how can we combine all of that? Does the difficulty level of the arrangement significantly increase with two children? The matter definitely simplifies if the siblings are of the same gender and similar age. This way, their interests and hobbies are not so far apart and are exceptionally easy to arrange. However, we cannot always afford such conveniences, and as the age difference increases, the matter can get quite complicated! Discover which solutions work in practice!
Room Arrangements for Siblings - Step One: Ideas and Inspirations
Having siblings is an incredibly valuable experience that shapes many valuable relationships and social skills. Shared childhood is also an opportunity to share emotions, play, and learn. One of the important aspects of growing up together is sharing space—like a room. Furnishing a room for siblings is a fascinating challenge but also an opportunity to create a harmonious and functional environment for the two children.
A key stage in arranging any space is searching for solutions that can inspire us. The more proposals we browse through, the greater the likelihood that we will find something that completely meets our expectations, both in terms of functionality and aesthetics. A great way to do this is by looking at photos of a specific product placed naturally in a particular room. This makes it easier to imagine what compositions we can create with its involvement.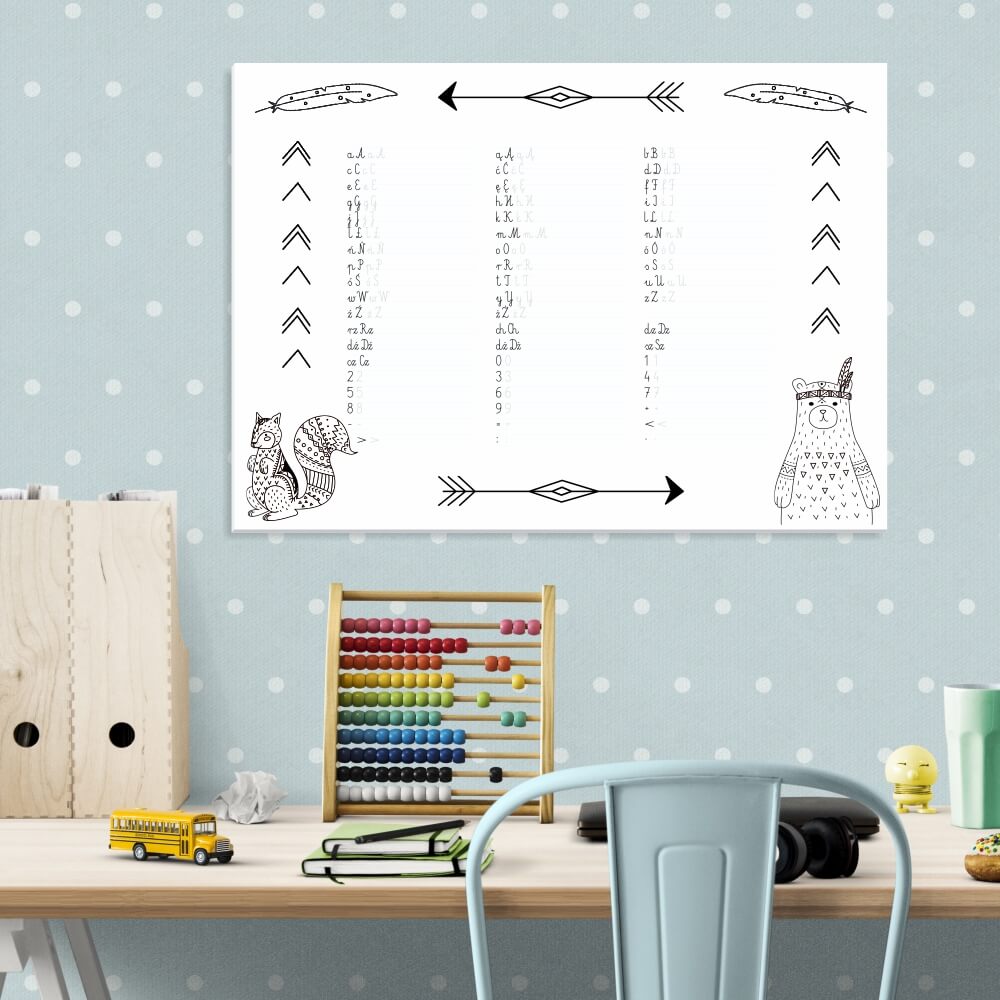 Is your little one starting the stage of schooling? A magnetic dry-erase board for children to learn writing with an animal motif will definitely make the time of getting to know new letters more enjoyable!
How to Arrange a Small Room for Siblings?
Furnishing a room for siblings in a small space can be a challenge, but not impossible. There are many ideas that allow for optimal and functional use of space. In the case of small rooms, it is worth considering several creative solutions that save space while providing comfort for the children.
Bunk beds.

One of the most popular solutions for small rooms for siblings is bunk beds. They allow for saving a lot of space by utilizing vertical space. Additionally, children will surely love playing hide-and-seek under the beds.

Functional furniture.

When choosing furniture for a small room for siblings, it is worth opting for multifunctional pieces. There are beds available on the market with built-in drawers, desks with shelves and compartments, as well as folding tables or ottomans that can be stored when not needed.

Color scheme and optical enlargement.

Light colors of walls and furniture can visually enlarge a small room for siblings. It is also important to avoid overcrowding the space with objects to avoid a feeling of tightness.
Chalkboard House will transform the children's space and encourage the little one to develop artistic skills.
Sibling Room in an Apartment: Practical Solutions
Choosing the right arrangement for siblings living in an apartment can be crucial for maintaining privacy and comfort. It is important to provide suitable space for learning, playing, and resting. Here are a few ideas that can help maximize the available space.
Division into zones.

Dividing the room into zones is a particularly important aspect that ensures each child has their own corner not only for sleeping but also for playing and learning. It is crucial for each of your little ones to feel that they have the freedom to choose their favorite colors or decorations. They will surely appreciate it! You can initiate an interesting game by asking them to draw their dream rooms and play as little architects!

A folding screen can also help separate the appropriate areas and create a more personal, individual space. Instead of a folding screen, you can use an interesting shelf or differentiate specific spaces with... colors! In this case, an imaginary boundary on the floor won't work, but you can use creative photowallpapers or different wall colors to definitively separate specific areas from each other. This solution will not only be practical but also visually appealing!

Personal corners.

Each child should have their own personal corner that suits their interests and needs. It can be a small desk with a bookshelf for the young scientist or an art corner with space to store paints and brushes for the little artist.

Study area.

If you have two school-going children, two separate desks are necessary. However, if one child is younger and not yet attending school, a low stool should be sufficient for them to draw and create their small, creative works. You can also consider larger shared desks that allow each student to designate their own space.

Sleeping area

Priority and at the same time a complicated challenge. Children's rooms often lack space, and fitting two separate beds becomes practically impossible in a narrow room. In such cases, it is worth considering smart solutions such as practical bunk beds or modular beds. If you decide on a bunk bed, remember that it may become the subject of numerous disputes over the top bunk. This can be both a disadvantage and an advantage!

Shared play area.

In the siblings' room, it is also worth planning a space that encourages shared play. It could be a carpet with a road for toy cars, a corner with LEGO bricks, or a small educational board for children for learning and drawing.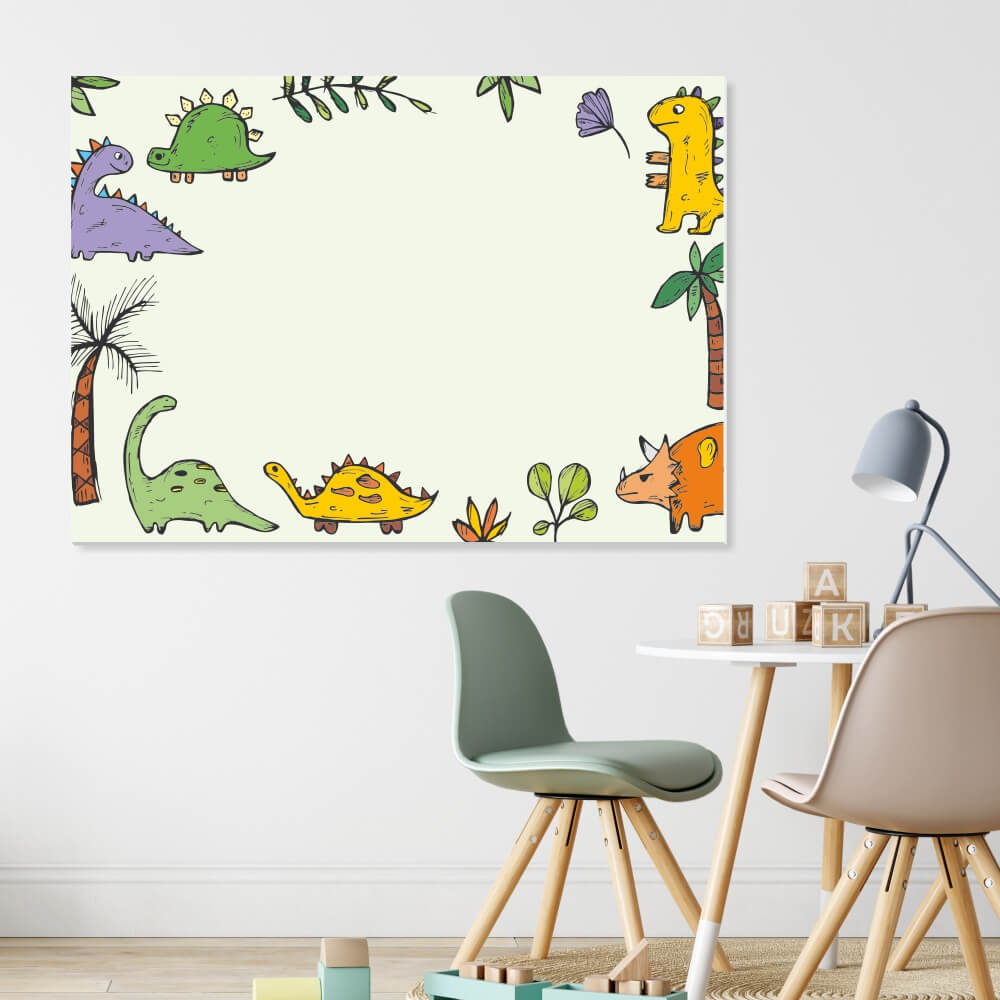 Magnetic Dry Erase Board for Children with Dinosaurs is both an aesthetic and practical solution for the little ones! The colorful theme will surely encourage children to learn.
Sibling Room Inspiration - Modern and Practical Ideas
Modern solutions in arranging a room for siblings allow for the creation of incredibly functional and aesthetic interiors. It's not just about furniture and colors but also technology that enhances children's comfort. All of this makes the sibling room a place that inspires, motivates learning, and above all, facilitates quality time.
Increasingly, technological elements are being introduced into children's rooms. It could be, for example, smart lighting that can be adjusted to match the mood, time of day, or activities the children are currently engaged in. There are also interactive learning boards and elaborate toy storage systems.
The eco style is also gaining popularity. Furniture made of natural materials, cotton fabrics, and even walls covered in moss are trends that promote a healthy and environmentally friendly lifestyle. In addition, personalizing the space is another trend that allows children to express their individuality. This can include everything from furniture in their favorite colors to artwork or wall stickers featuring their favorite characters from movies and books.
Designing a room for siblings is a challenge that requires considering many factors. However, it's important to remember that the most important thing is for children to feel safe, comfortable, and happy in their room. Adapting the room to their needs and interests is an investment that will bring benefits for many years.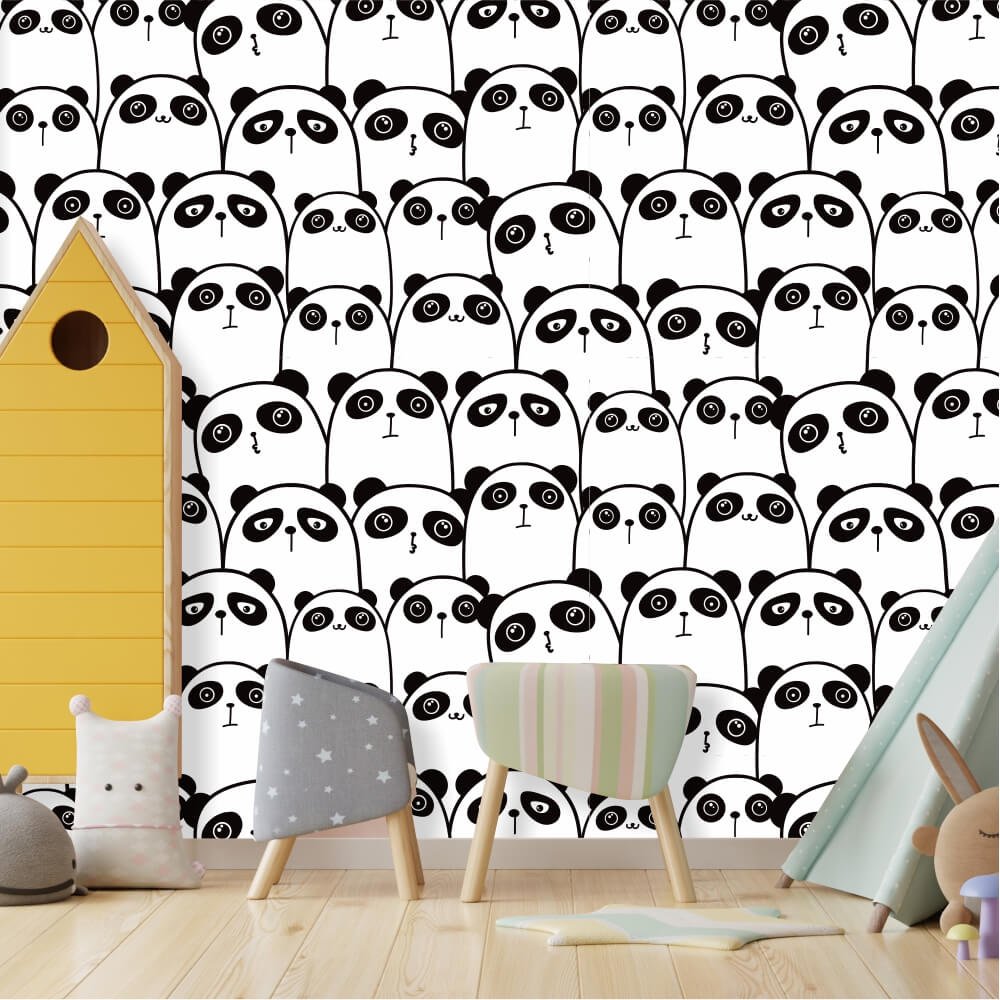 Wallpaper with Panda Bears for Children will make the children's space cozy and enjoyable to spend time in.
Ideas for a Sibling Room - Something for Preschoolers and Older Kids!
How to arrange a small room for siblings when one of them is just starting their adventure with preschool, while the other is already attending school? In addition to the previously mentioned tips on dividing the space into zones and creating personal corners, we also have a few other design suggestions for you!
Designing a Room for Preschoolers
If you have two proud preschoolers in your home, arranging their room will be a bit easier. Children at this age usually don't need a lot of space for long and intensive studying - a creative play corner is usually sufficient. So, have fun with wall decorations! You can choose cheerful photowallpapers with children's themes or characters from beloved fairy tales, or add small accents such as stencils or colorful wall stickers. If you opt for the first solution, a crucial question may come to mind - is it worth laminating photowallpapers? Should you skip this additional layer? We won't leave you without an answer! We have explained everything in our blog post.
Know that a chalkboard surface will definitely add to the fun. The easiest way to create one is with our self-adhesive chalkboards. With just a pack of soft chalk, the room will transform into a true artistic studio!
Designing a Room for Students
When your children are older, it's worth discussing their expectations regarding the appearance of their room. Talk about the appropriate color scheme and suitable accessories. Undoubtedly, any tools useful for time organization and studying will work perfectly in a student's room. Here, creative whiteboards will be excellent, allowing your little ones to jot down important information about exams, homework, or reminders about their best friend's birthday!
As you can see, arranging a children's space is not as difficult as it might seem at first glance! And as for designing a teenager's room? We also have proven methods for that!
Posts from the same category